Australia's greatest ever golfer Greg Norman is better known as a businessman these days, and if you take a look at his
Greg Norman Developments
page, you'll see a long list of prestigious international locations where he has put his name to exclusive
real estate
developments.
But Norman's latest estate is at Gledswood Hills on Sydney's southwest fringe, not too far from Camden in outer south-west Sydney.
Yes, Camden – which doesn't have quite have the international name recognition as places like Dubai, Florida, or the exclusive resort of Cabo San Lucas in Mexico, just three of the locations where Norman has developments.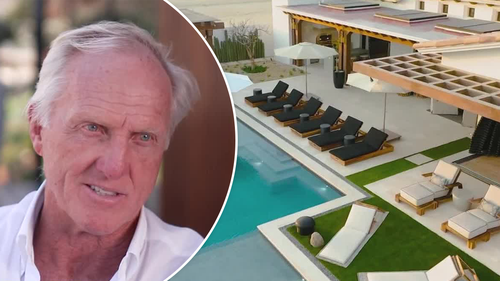 But Norman is a canny operator and the knows which direction Sydney is expanding in.
"You look at where the growth is," Norman told 9News on Friday.
The man whose golfing nickname was "The Great White Shark" or simply "The Shark" and who has proven to be a bit of a property shark, jetted into Sydney this week, then choppered his way out to south-western Sydney to spruik the
Norman Estates at Gledswood Hills
In partnership with Japanese developer
Sekisui House
, the Gledswood Hills development is Norman's first luxury housing estate in Australia and features 190 homes with what Norman calls "a high level of design and thoughtfulness that goes well beyond expectations".
Homes at the $300 million estate will have a starting price of $1.2 million, while the development also includes a par-three Norman-designed golf course, which the golfer wants to look as established as possible.
"I have a least disturbance approach," he said. "I want to make sure the golf course looks like it's been there for 20 years."