You would be easily mistaken for thinking you're in Cabo San Lucas at this Aussie home for sale.
The five-bedroom, four-bathroom property at 53 Baldissera Drive is known as "The Mexican House" to locals and is actually located in the Alice Springs suburb of Ross.
With its ochre-coloured exterior, hacienda front door, terracotta tiles and bold walls, the unique house very much has a "distinct Mexican flavour," as stated on the listing.
On the books of Gail Tuxworth of LJ Hooker Alice Springs, the home has a price guide of $1,775,000.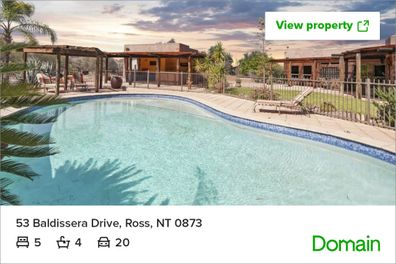 The home is situated at the rear of a nearly six-acre block under the Macdonell Ranges.
Listing photos reveal cacti and a tiled pathway that leads to the hacienda front door.
READ MORE: Buyer to 'feel the stresses of city life fade away' at blue barn-style home in tranquil village
Interiors very much reflect Mexican style architecture with bold and rustic walls, intricate tilework and imported hand-painted ceramic basins.
The semi-circular dining room with its side-by-side windows capture idyllic bush views, making it an ideal spot for entertaining.
Other dedicated entertaining zones include the "pool hacienda" with its outdoor bar, the cinema room and sound-proofed music room.
READ MORE: Eco-friendly Melbourne home for sale has a 'secret tunnel and separate astronomical observatory dome'
Ross is just 10km from the heart of Alice Springs. There are not enough sales over the past 12 months for Domain to obtain a median house price for the area.
Records show the home for sale last sold for $1.65 million in November 2021.